In 2021, weddings are beginning to work their way back. Couples are starting to rebook after postponements, and newly engaged couples feel more confident choosing a date.
There is a glimmer of hope as vaccines slowly roll out, more people and vendors begin to observe the CDC's COVID-19 prevention guidelines for events, and weddings become smaller in size.
That said, we MUST continue to practice physical distancing and wear masks. Especially, at social events like weddings. ⁠Ultimately, your goal is to help manage your guests' comfort level. You want to minimize the risk and host your dream wedding with friends and family. However, this will take a little more thinking, but it will be worth it when guest after guest expresses how safe and cared-for they felt at your wedding.
Despite all of the wedding cancellations and postponements that occurred in 2020, many weddings did in fact take place. Since then, Wedding Consultants have shared some of their top COVID-19 wedding planning lessons learned. We have taken that advice and condensed it to bring you the Top 5 COVID-19 Wedding Planning Tips to Keep Your Guests Safe in 2021.
1. At minimum, plan for The Basics
Make a fashion and social-responsibility statement by encouraging mask wearing
Provide hand sanitizers
Conduct health checks with temperature and symptom screening
Ensure the venue and caterer follow protocols and use appropriate disinfectants for cleaning
Ask your venue what their cleaning protocol will be during the event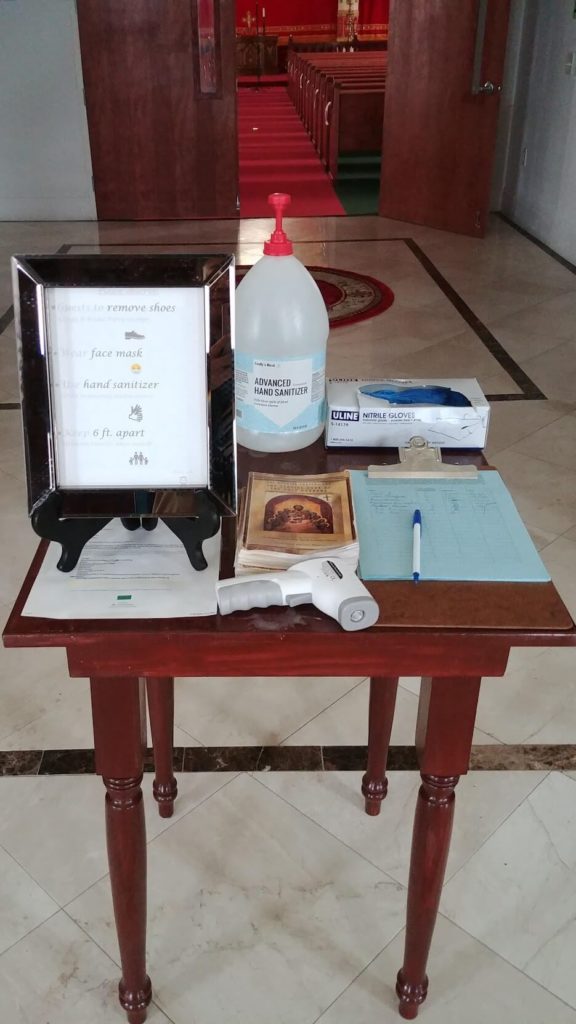 2. Create a Safe Space for Social Distancing
Use outdoor spaces when available
Expect to book larger event spaces to accommodate a smaller number of guests
Go with the larger dance floor although your guest count may be smaller
Modify the room layouts by seating 6 guests at tables made for 8 or 10. Download our COVID-19 Resources Guide for more ideas
Call guests to find out if they are comfortable with everyone who is assigned to their table
Provide physical distancing markers on the floor where lines may form
Use fun floor markers on the dance floor to keep groups at a safe distance
Limit the number of guests who are in washrooms at any given time
Double check with your ceremony venue regarding their rules and inform family/wedding party regarding mask wearing or social distancing rules during group photos
Check with your wedding party regarding how comfortable they feel riding a "party bus" or limousine as a group. Be sure to plan for alternative solutions to transportation.
Post Signage communicating guidelines
Add information and links to your website and invitations
Announce and show photos during the planning process of the precautions you are taking to keep guests safe on wedding day
Let guests know it is ok to stay home when appropriate
Provide a Livestream for guests who cannot attend
Create a Master guest list with contact numbers to communicate in case a COVID-19 case turns up after the event
Inform guests of any protocols your venue and other vendors are taking
Use wrist bands to help guests express their level of physical distancing
Let them know how much you care about keeping them safe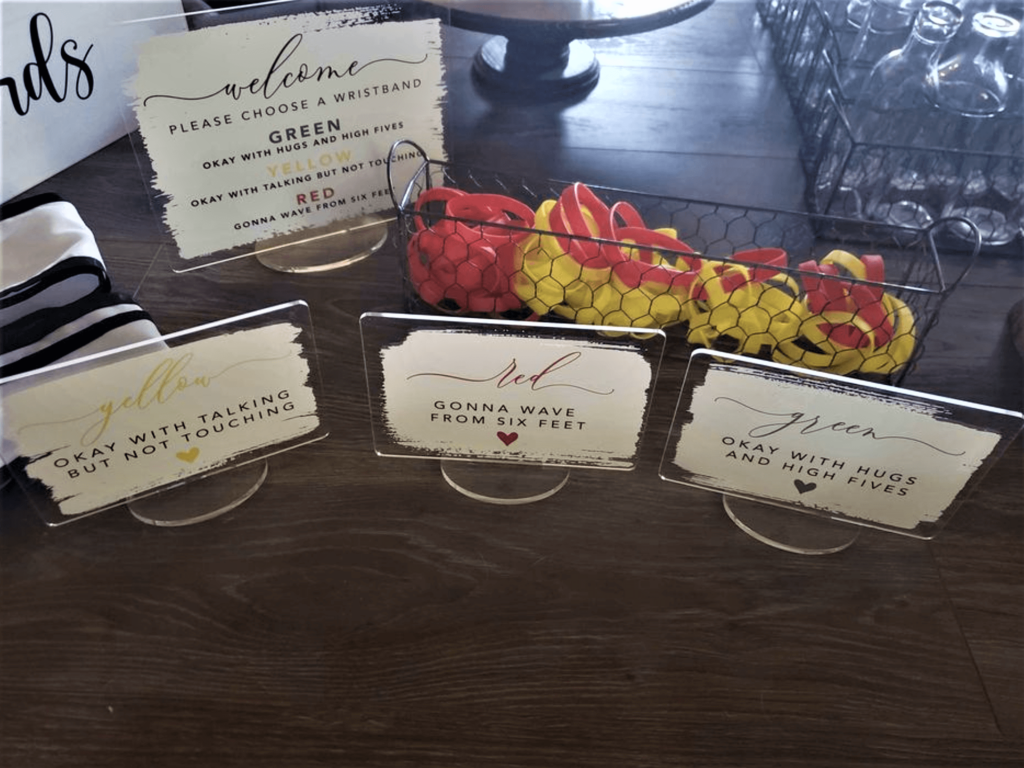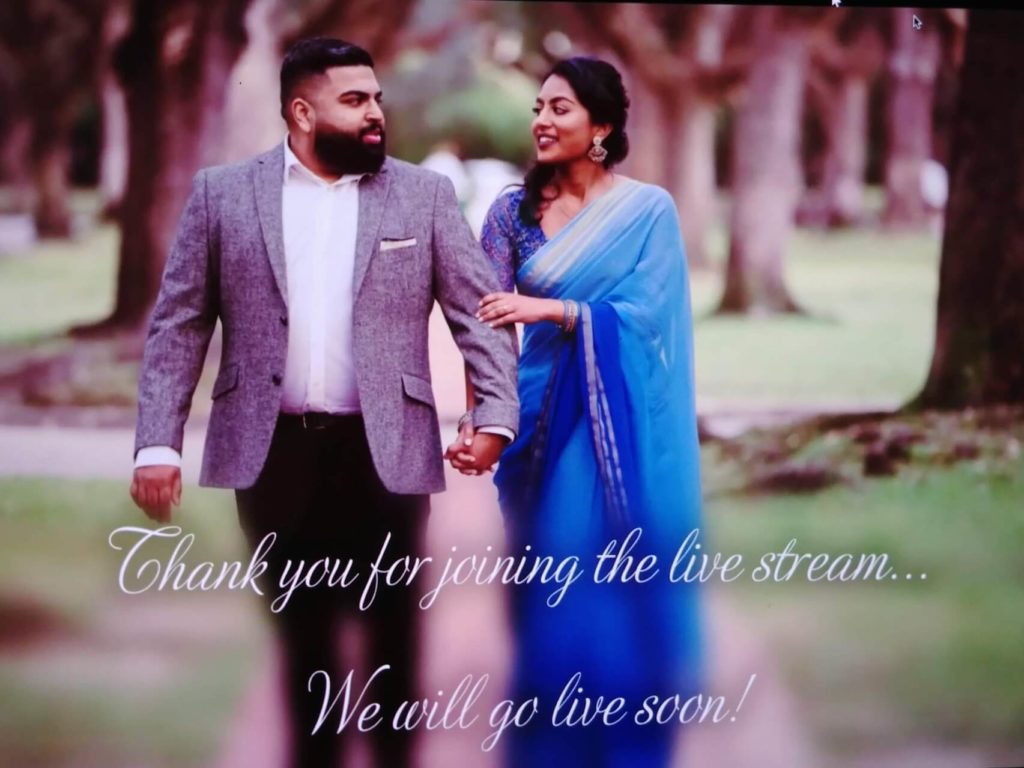 Select a plated meal instead of buffet stations
Display stations are also not as popular
Use plexiglass barriers, if offering buffet style
Request that flatware be rolled in the napkin
Ask for water glasses to be served after guests are seated instead of pre-setting at the tables
Choose not to pre-set the salads
Offer butler-passed appetizers and table service
Covering the food is super important!
Download our COVID-19 Resources Guide for more ideas
Keep in mind that the reason for these precautions is to minimize the spread. Keeping food, beverages, and utensils from being contaminated by a guest inadvertently speaking, sneezing, or essentially "spraying" over these items is absolutely worth the effort if the outcome is that you get to celebrate your wedding with the most important people in your lives.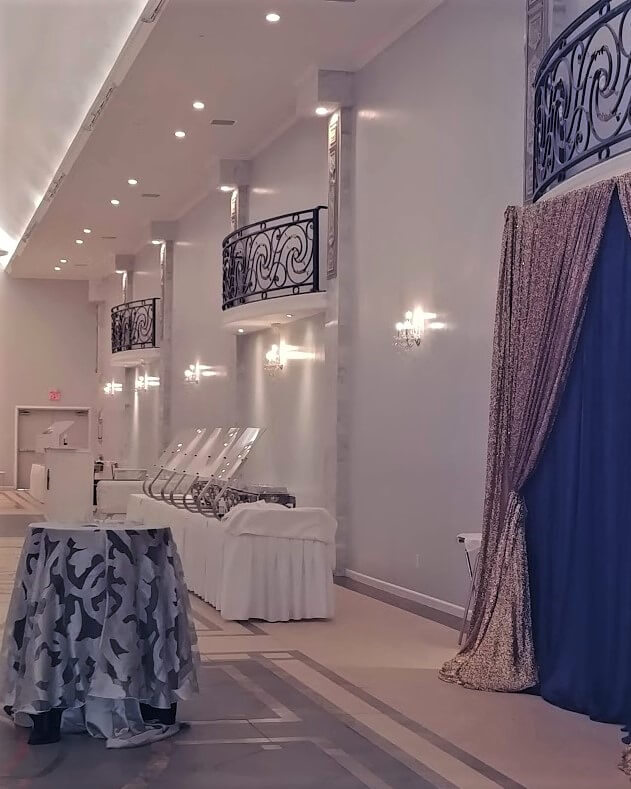 5. Ensure everyone is doing their part
Ensure all vendors play their part, and do not be afraid to hold them accountable
Ensure all staff has been briefed and follows protocols
Set the example by ensuring you and your wedding party are also following the guidelines
Guests will do what you do and will feel much safer about celebrating this moment with you
Reference the FAQs for Event Planners provided by the CDC