3 biggest mistakes
newly engaged couples
make when planning a wedding.
So, you're engaged and ready to start booking vendors? We suggest you slow it down a notch and have a few key conversations before scheduling any meetings.
Sign up to Receive this FREE video to learn more.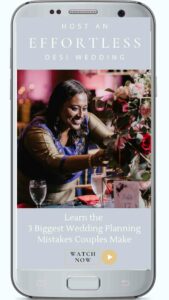 Receive this FREE video to learn how to avoid making the three crucial mistakes couples make when they first begin planning their wedding.
Stop repeating the same mistakes your friends made
Learn the 3 things you need to do before starting your venue search
Get organized from the start with our free templates
Plus, get more planning advice to your inbox with tips and valuable tools that
help you host a wedding your guests will cherish.