indian Wedding Bar Etiquette
When it comes to offering alcohol at your event, is there correct etiquette for your Indian wedding reception?  Well, that really depends on your customs, your budget, and what you and your family deem appropriate.  We've put together a Top 11 list of Indian Wedding Bar Do's, Don'ts and Musts to help you decide what fits your style best.
Remember, wedding etiquette seems to have faded some over the years. There was a time where everything had  its "proper" place and "proper" form, but times have changed and couples have become less concerned about following the rules (or about what the aunties and uncles are going to say). Couples are now more focused on making sure their guests have a good time and feel like everyone is part of the family.
Dry Weddings Should Not be Forgotten
Muslim weddings in particular are dry, however other Indian weddings and ancillary events can also be dry. If you are planning to NOT serve alcohol, or a dry wedding as it's commonly known, please keep these five dry wedding tips in mind:
Your guests want to have more than water and chai at your wedding, so plan on having at minimum a few soda options. What is a MUST? Coke, Diet Coke and Sprite (Dr. Pepper for those of you who live in Texas :))
Make sure you have enough stations so that your guests are not waiting long to get a drink (think: about 150 guests per station)
Think about serving Mango Lassi or Rose Lassi (with appetizers), which is filling and all desis love it!
Not a big fan of sodas, what about fresh juices (watermelon, sugar cane or lemonade)?
Mocktails (drinks made without alcohol) can be a fun alternative, try this simple recipe for Cinderella or create your own favorite.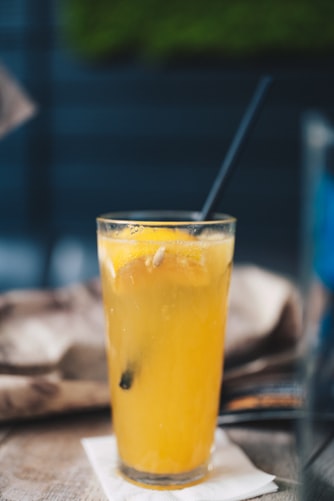 Let the Bar Flow All Night
For Indian wedding receptions that will serve alcohol we suggest that you keep it classy, consider your budget, and be cognizant of your guests' preferences. These are our Top 11 Indian Wedding Bar Do's, Don't, and Musts:
Plan your budget to include alcohol – this can easily be a $10-15K line item at a hotel. Making the bar a line item in your budget will help you see the true cost compared to food, gratuity and taxes that may be lumped together into a per person price. Many times this per person cost gets confusing and you don't realize that you end up getting charged more in the end for bar consumption. We'll have a blog post soon about estimating and negotiating food and beverage minimums, we promise!
Know your guests! If they are not big beer drinkers, don't go for specialty beers to be served on the menu, instead get the basic beer package and save some $.
Whiskey – if you are not serving Johnnie Walker Black or Hennessy then you may as well not have a bar! Johnnie Walker Red is definitely on the DO NOT serve. Johnny Walker Blue is an excellent choice if your budget can afford it.
Vodka is a Must – think Grey Goose, Ciroc, or Titos. Reconsider serving Absolut or Skyy. So, mind you, this is one of those "image" things that as a wedding consultant has now become almost impossible for me to think about differently. I don't know that many desis (myself included) could tell the difference in vodkas in a blind taste test, however, even though Tito's and Skyy are the same price, Tito's is a craft vodka so perceived as better.
Rum – I don't know that I've ever had anyone get really picky about the brand of rum, so go with a popular bottle like Bacardi and you'll be safe.
Crown Royal or Chivas Regal will always be acceptable by the uncles (it was the drink of choice before they could really afford the better stuff).
Wine – a simple red and white will do. The wine aficionado in me would say do NOT serve a Zinfandel or Rose, however, the desi in me knows that less dry wines are more preferred by the aunties). Most desis don't have a real appreciation for wine (don't hate, it's what I've seen over the years) – they know red and white but couldn't tell you much more. Pinot Grigio (less dry) or a Riesling (usually sweeter) works well for the white, and for Red – Merlot (if you have some wine drinkers) or Pinot Noir (light bodied).</li
Hennessy – the cognac of choice currently for desis. Chivas Regal – old is gold for some of the older uncles. Patron – this is my personal suggestion since it's my tequila of choice.
Beers – If you are having No non-desis attend the wedding, just have the base level of import beers – no need for the domestics 🙂
Mixers – Cranberry juice, club soda, tonic, Coke, Diet Coke (or Coke Zero) and Sprite are MUSTS!
Logistics – plan for 1 bar per 150 guests (if you are tight on space, you can have 2 bartenders at 1 bar for 300 guests)
Helpful Infographic
There it is. Our Top 11 Indian Wedding Bar and Top 5 Desi Dry Wedding Bar rules of etiquette. Be sure to download our nifty infographic to use when you're ready to make your wet or dry wedding bar choices. Or, please share with your friend, cousin or sibling who may be struggling with this decision.
Hop on over to Instagram and comment on what you thought about this post…@desiwedsonline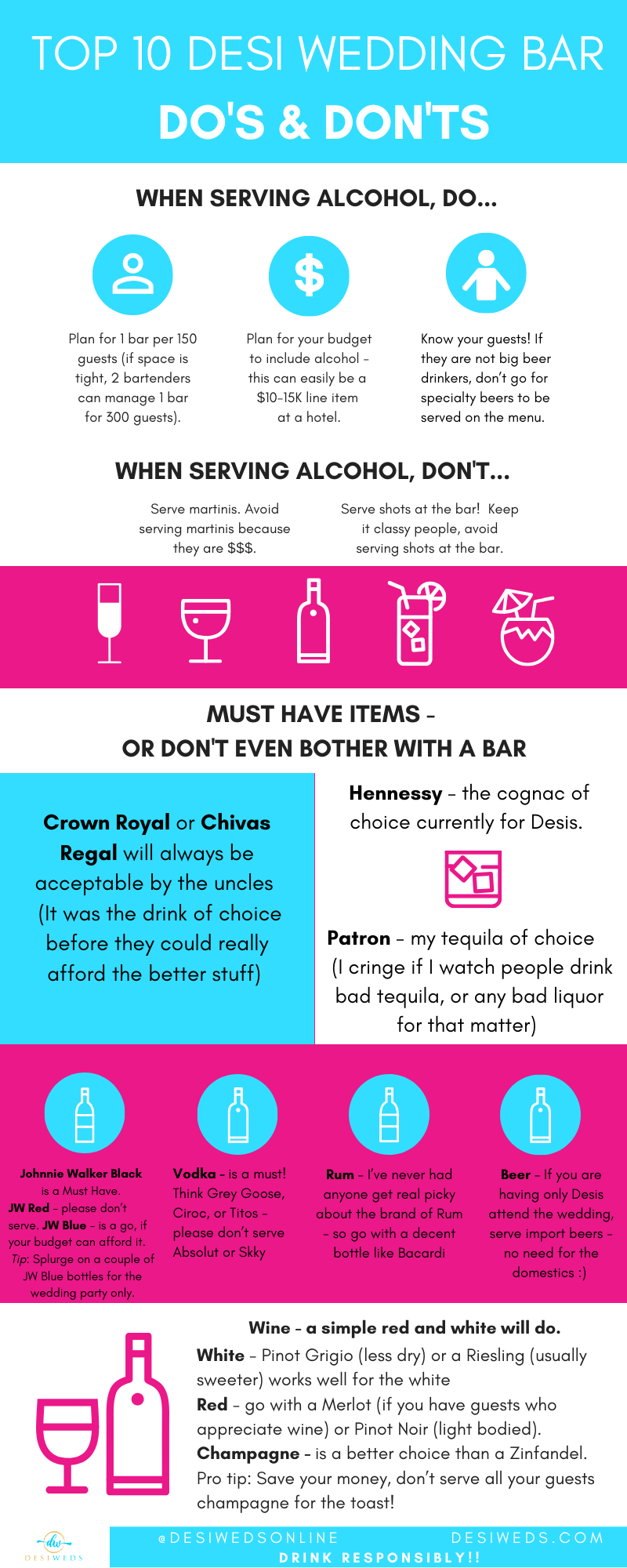 Spread the word