What should I bring the night before my wedding?
The night before your wedding can be a bit hectic making you feel stressed and forgetful.
If you're planning an Indian wedding in the U.S., our downloadable Indian wedding packing list will help you not forget those important items ensuring your wedding weekend goes a lot smoother!
Because, trust me, the last thing you want is to realize you don't have your bindis or cufflinks when it comes time to put on your outfit!
Packing List for the Bride:
Lengha
Can Can
Dupatta
Hair accessories
Bindis
Necklace
Earrings
Shoes
Purse
Lengha/Sari
Can Can/Underskirt
Dupatta (if needed)
Bindis
Bangles
Necklaces (long and short)
Earrings
Shoes
Hair accessories
Lengha
Can Can
Dupatta
Bindis
Notes or Thank You
Speech
Necklace
Earrings
Hair accessories
Wedding night pajamas
Bangles
Shoes
Purse
Toothbrush & toothpaste
Floss & mouthwash
Glasses & case
Hair brush
Hair products
Contact lenses
Deodorant
Perfume/Body Spray
Heavy duty make-up remover (oil based ones are great for lifting layers of makeup)
Razor & shaving cream
Moisturizer
Feminine products
Medication/pain killers
Nail file
Tweezers
Lip balm
Large safety pins
Lint brush
Make-up bag
Body adhesive
Some of those may sound obvious, but when your mind is cluttered with a million and one things, you'll be thankful to have a list. I highly recommend that you pack for each event separately, labeling each bag to keep you from rifling through multiple bags when searching for something specific.
Make a box or bag with your items for the Sangeet, pack a second box or bag for the Ceremony, and another for the Reception. It may seem like overkill, but you will thank yourself when wedding week arrives.
What do most brides forget?
With multiple events to get ready for a Hindu wedding, I suggest packing in advance so you do not forget anything for your wedding.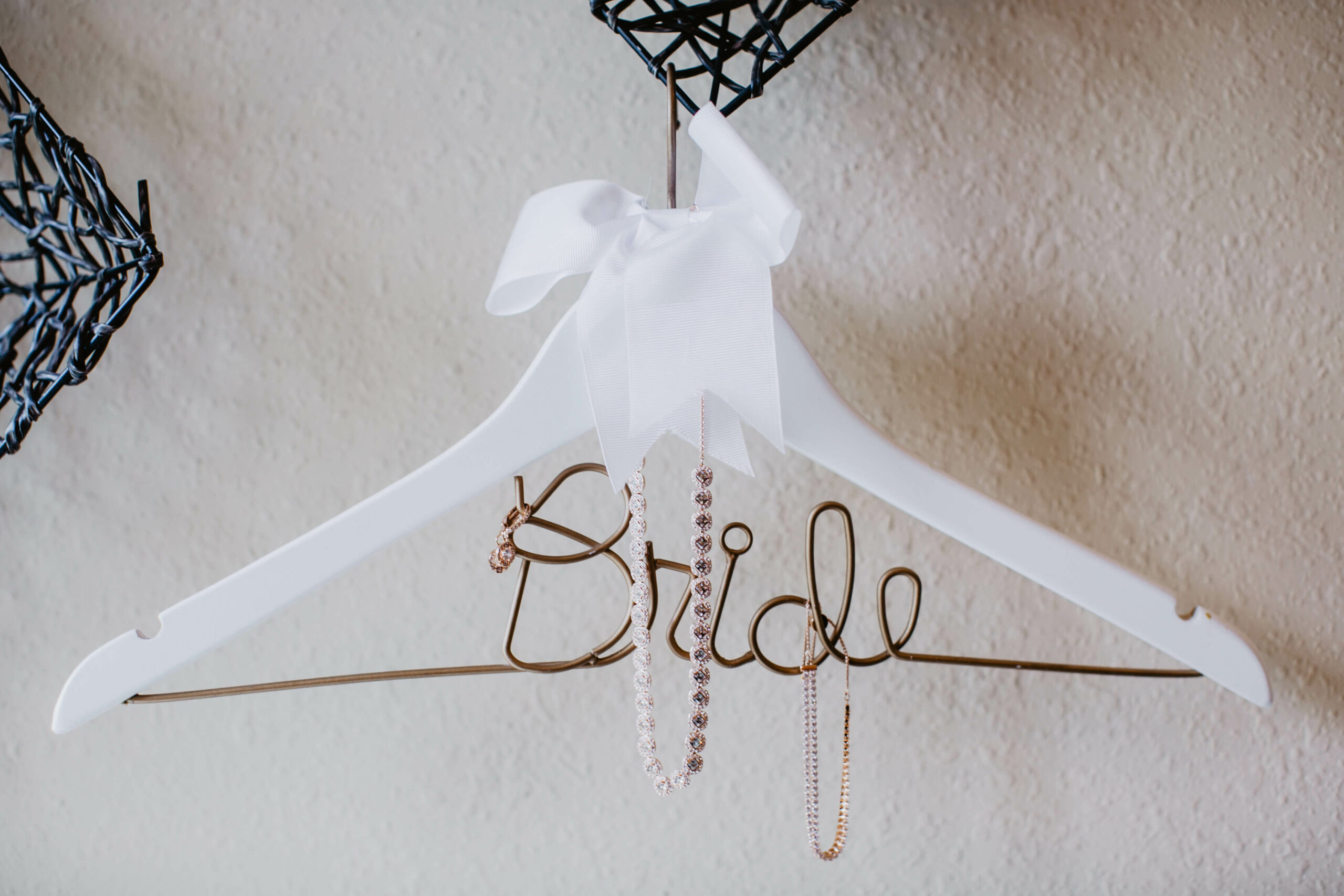 Most brides tend to forget these essential wedding day items:
Lipstick in the shade you will be wearing (day and evening color, if you're changing)
Robe and slippers to wear before changing into your ceremony sari or lengha
Fashion tape and pasties
A nice outfit for the day after the wedding
Specialty wedding dress hanger (a sturdy one with a hook that swivels)
Aside from the personal items that you'll need for your wedding, I recommend that you pack your ceremony and reception accessories and decorative items a week in advance as well.
Make packing a priority and not an afterthought. With everything culminating on the week of the wedding, I highly recommend that you do not wait until 3 days or less prior to the wedding to begin packing.
Remember, organizing a multi-event celebration along with entertaining family and guests who are arriving from around the world, plus handling your new family, can be quite a lot to handle. Take care of you and ask for help.
What are the 5 things a bride needs for her wedding?
If on the day of the wedding an earth shattering event occurs and you can only bring a handful of things with you, I'd say the 5 things a Hindu bride needs for her wedding are:
Your favorite shade of lipstick
Deodorant or body spray
Lengha or Sari
Your bridal shoes
Your bridal jewelry
Honestly, everything else can either be borrowed or bought on a moment's notice. Of course, more often than not all goes well (with the exception of the random, yet not so random wedding day rain). Yes, it happens.
I don't have statistics on this, but I venture to guess that many weddings have some amount of rainfall. Oh, so pack an umbrella just in case! And btw according to Hindu tradition, rain on the wedding day is considered lucky!
But seriously, the things I have seen brides forget and truly stress over or need often are the five listed above. Make sure you buy the shade of lipstick your make-up artist is using so you can touch-up throughout the day and into the evening.
And, I can't emphasize enough how having your own personal deodorant or body spray scent will make you feel fresh and confident. You know it works because you've been using it for years.
Finally, your dress, jewelry and shoes are irreplaceable! You have shopped and shopped to land on this perfect ensemble. I mean, it is essentially the entire reason for this wedding event is it not?
Ok, well of course it's not. This day is about you getting married and celebrating with friends and family…but your outfit truly makes you queen for the day!
What should the groom bring to an Indian wedding?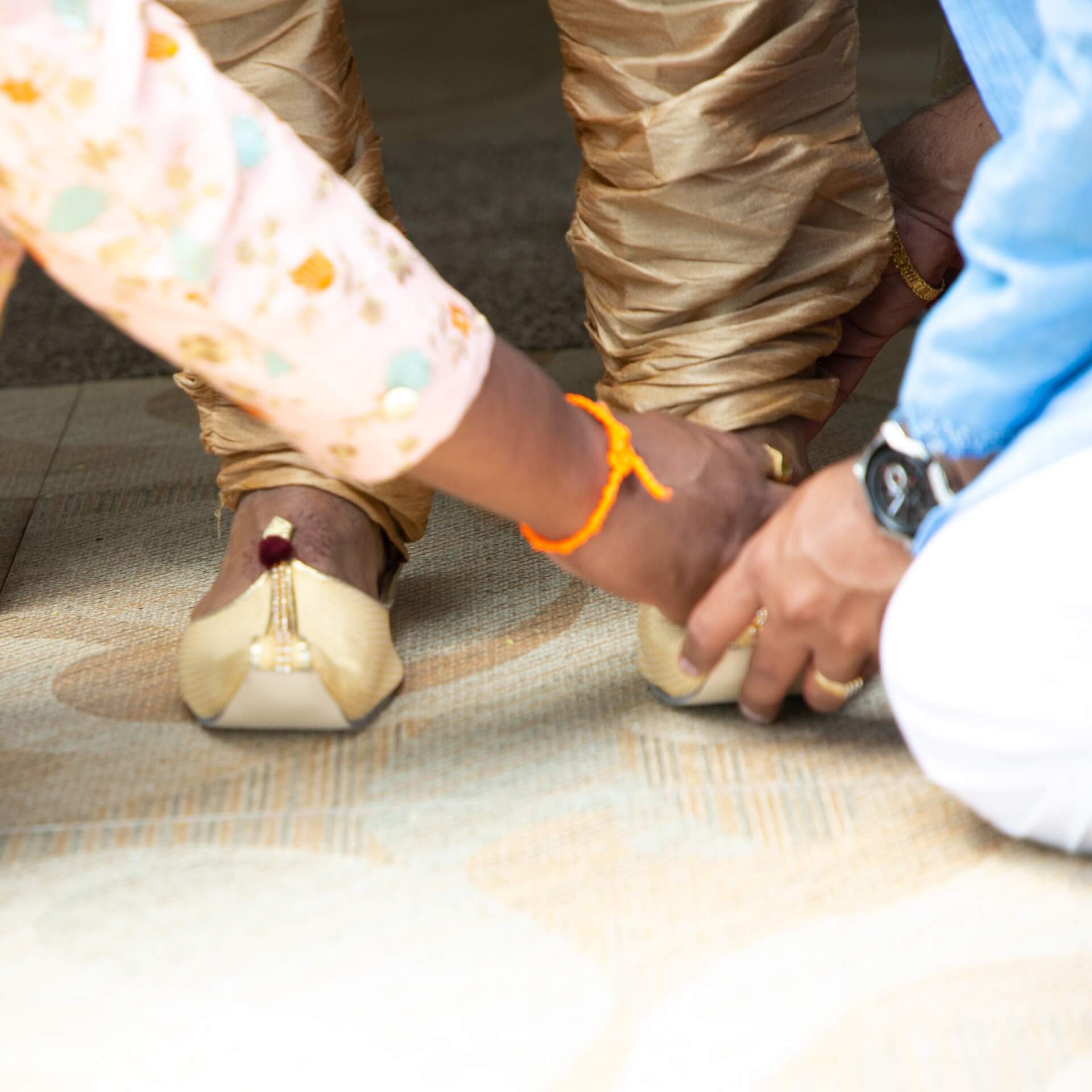 Let us not forget the handsome groom. We know this is as much his day as it is yours. So, what should a groom bring to his Indian wedding?
Of course, he will need his grooming kit, toiletries, lint brush and a list of other personal items. His list is not as long as the bride's, but his items are equally as essential.
I have put together a complete downloadable list of things the groom should bring to his wedding, which is customized for a Hindu ceremony and reception.
What should you NOT forget at a wedding?
Aside from the obvious, cell phone charger, deodorant and miscellaneous things we tend to forget when we travel, you should NOT forget to pack these essentials for a fabulous wedding weekend.
Cash or checks (for any last minute vendor payments or tips)

Vendor contact sheet (only if you don't have a wedding planner on speed dial)

Marriage license

Shoe inserts, bandages or blister patches (especially if you haven't broken in your new shoes)

Hangover kit (let's be real)
You can get your Indian wedding packing list for the groom and the bride below.
The list includes items you'll need for your wedding day and overnight items that brides and grooms tend to forget.
The hope is that you actually use it. Save it to your cell phone or in your wedding planning files. Wherever you put it, keep this list handy to use come packing time, which is a week or two prior to wedding day. Right? Right.
I have your back my friends. To simplify things, I have created a handy downloadable Indian wedding packing list for the bride and the groom, which is customized for a Hindu wedding.
These both include a complete list of essential items that you and your Groom will need for your wedding weekend. I hope you find it useful and time saving.
This complete Indian wedding packing list is customized specifically for the couple celebrating a Hindu wedding.
After 15+ years of experience in the industry, I have learned what items couples tend to need most and what, for whatever reason, they forget regardless of how organized you are.
Remember though, even if you leave fashion critical or personal items behind on the day of your wedding, all will be well. I'm not gonna lie, if you do forget something, it may seem catastrophic, but in the end it will all turn out just fine.
Let it go. Enjoy your day. Breathe and take it all in.
Happy planning.