Having Options is trending
I'm curious; what are your thoughts on having an Indian caterer make your non-Indian food?
The fact is that you will serve something in addition to Indian food during your event(s), we mustn't take that for granted. My opinion is that offering a variety of food is something to definitely consider when you have multiple events. Options, options, options in food are critical when hosting an Indian wedding. Considering that the average Indian wedding has 3-7 meals served, we have learned that no one wants to eat the same type of food over and over again. Seriously though, how much butter chicken and saag paneer can one person eat!?!? Thankfully, the trends have shifted away from the expectation of having Indian food at every event, so please don't feel obligated to serve naan and pulao at all of your events.
INDIAN CATERER VS OTHER -

What to consider
Now that offering food from a variety of cultures has become a legitimate trend, the question is: Do you still have the same caterer that's making your Indian food also make everything else or, do you hire a caterer that specializes in that specific type of food?
There are two major considerations to keep in mind when deciding. One being, your venue. If you're considering a hotel that can make some (or most) of the food you would like to serve, you should go that route, it will likely help your budget. Two, the importance of food taste or preparation. (Be sure to read our Venue Hunting post for tips on selecting the perfect venue.)
Before deciding on which direction to go with, ask each caterer to prepare a sample menu for you to taste! Sure all of this will add extra work and a few additional meetings to your planning checklist, but in the end it'll be worth it to have great food at your event(s). The thing to remember is that if your Indian caterer is making chicken fajitas, it should not taste like tandoori chicken with some bell peppers and onions in it, (yes, that actually happened to us earlier in our career)! On the flip side, a traditional Mexican restaurant (or even a typical hotel) may cringe if you asked them to put squash and zucchini into a vegetarian fajita for you. However, your Indian caterer would do it in a heartbeat and your parents would love it!
Ultimately, make the decision based on taste and what works for your budget.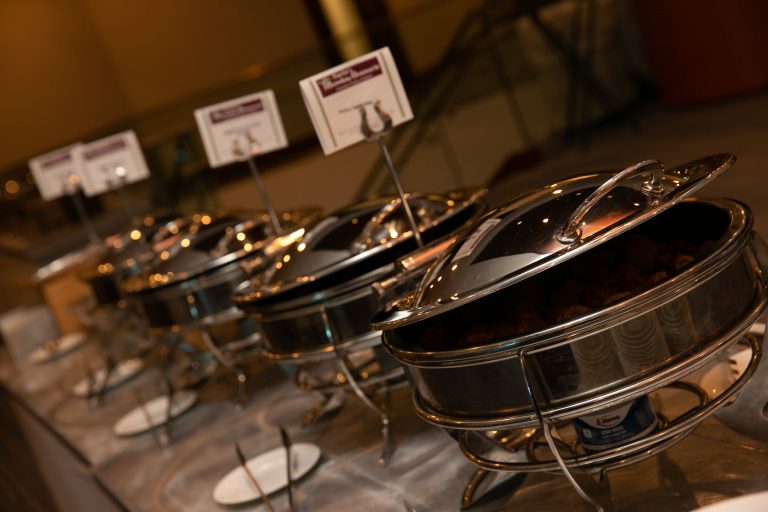 If you opt to go with two caterers, just be prepared that it comes with more logistical planning. Such as managing who is bringing what, making sure there is enough space in the prep area for both caterers, and ensuring that your guests know they have menu options. If you're hiring one caterer there is actually a bit more work on the front-end, however on event day things move a lot smoother.
If you go with the "same-vendor for all" route, like a hotel, you may be more likely to negotiate a better rate since they'll be providing food and services for all of your events.
If it were up to me, I'd rather have good food even if it costs a few more bucks. My experience has shown that food can make or break an event. People may not talk about how delicious the food was, but they will absolutely talk about how bad it was. Personally, I've seen it done both ways at weddings in the past, and honestly it has to do with which vendor you believe will deliver what you asked for at your event(s). That said, I would suggest you hire the caterer/vendor who impresses you with their food quality and taste. This way you can feel confident knowing that your guests will be impressed!
Tell us what you think or drop us a line if you have a question.