Negotiating with Wedding Vendors: Etiquette & Expectations
Negotiating with Wedding Vendors: Navigating Etiquette and Expectations
Wondering if it's okay to negotiate with wedding vendors? As South Asians, the art of negotiation is deeply ingrained in our culture. We've haggled at the local market, secured deals on everyday purchases, and understood the value of getting the most for our money. When it comes to planning a grand wedding, where expenses can quickly add up, there's not just room but an expectation to negotiate with wedding vendors. Your parents might even consider it a time-honored tradition.
In this blog post, we'll explore the delicate balance between negotiating for value and adhering to cultural expectations. We'll delve into the etiquette of negotiation while focusing on key aspects such as what factors influence wedding vendors' costs and the process of getting value from vendors.
Getting Value vs. Asking for Discounts on Services
Now, let's talk about getting value versus asking for discounts on services. While negotiations might seem synonymous with asking for discounts, in the realm of wedding planning, it goes beyond simply driving prices down. As South Asians, we're inclined to seek value for our investment, especially when it involves the celebration of a lifetime. Negotiations are about understanding what a vendor offers, recognizing the effort required, and determining if there's an opportunity for mutual value enhancement. For example, once you have narrowed down your venue options, it is fair to begin negotiating terms. Knowing the right questions to ask, will help you determine where there might be services that add value to your wedding experience.
When you're negotiating, it's not just about the service; it's about the human interaction involved. Keep in mind the scope of work, the timeframes within which tasks need to be accomplished, and the true effort behind making your dream wedding a reality. This perspective allows you to delve deeper into the services being provided and assess whether there's room for added value.
Choosing vendors isn't just about picking names from your family's contact list. It's about finding your dream team who can turn your vision into reality. From photographers who capture your love story to bakers who create the cake of your dreams – each vendor is a brushstroke in your wedding canvas.
Parents' Perspective vs. Bride & Groom and the Cultural Influence
Now, let's consider the negotiation dynamics from the perspective of the couple and their parents. Parents often lean towards negotiating, not necessarily to obtain discounts, but to enhance the overall experience. This might involve requesting additional services, personalized touches, or going the extra mile to ensure the wedding vendor becomes an integral part of the family's vision and expectations.  Have a meeting with your parents early on to establish expectations and ground rules. 
When dealing with non-South Asian vendors, it's essential to communicate the cultural context of negotiation. Explain how important it is to build rapport with your parents and both of you, establish a partnership, and collaborate to create a wedding that reflects both cultures. By explaining the significance of negotiations from a cultural standpoint, you are fostering understanding and paving the way for a meaningful vendor relationship.
Does Negotiation Equal a Request for a Discount?
Considerations: Factors Impacting Vendor Costs
Let's clear a common misconception – negotiation doesn't always revolve around asking for a discount. While reducing costs might be one outcome, the art of negotiation often leads to obtaining more value for your investment. Instead of focusing solely on price reduction, consider negotiating for additional services, extended hours, upgraded options, or other elements that enhance the wedding experience.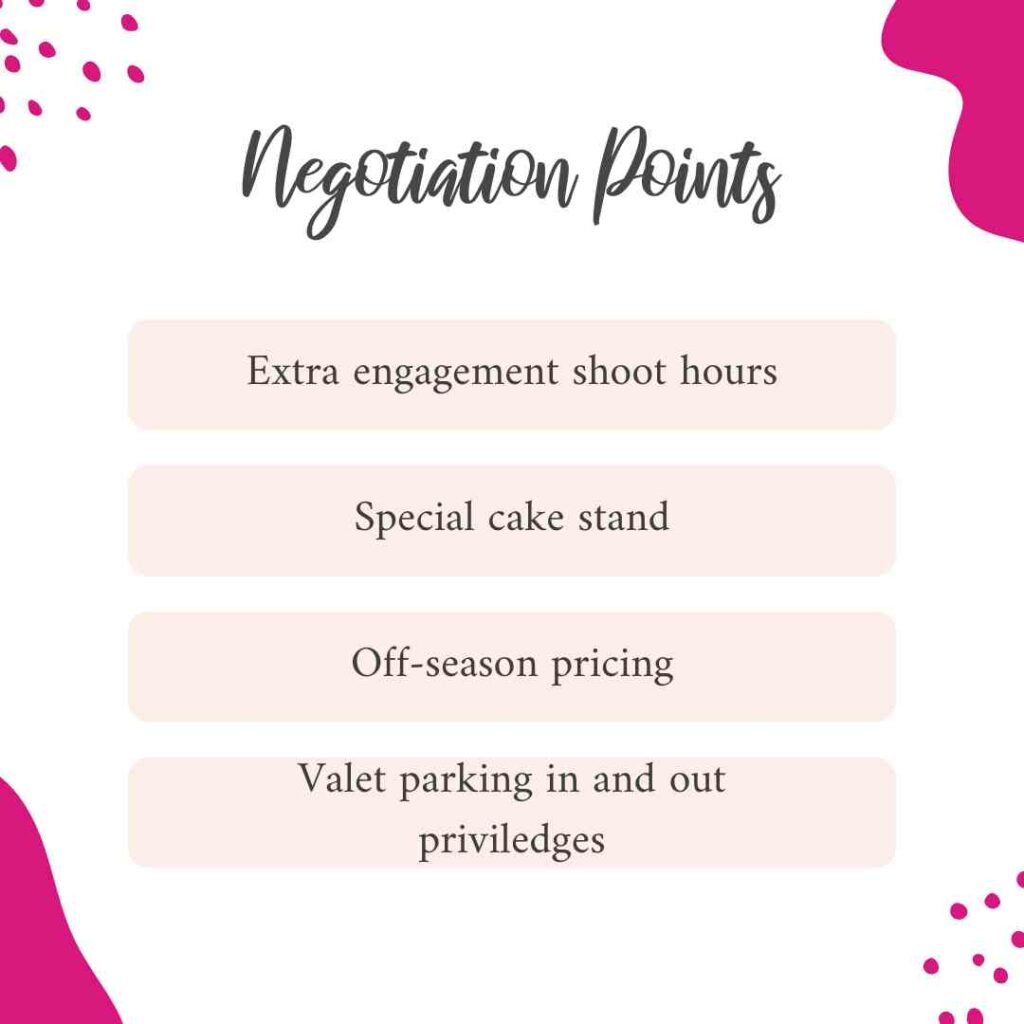 For instance, a negotiation could result in an extra hour for an engagement shoot, free delivery, or the inclusion of a special cake stand. These concessions provide added value without necessitating a lower price. The goal is to ensure that both parties feel they're benefiting from the arrangement, leading to a win-win experience.
Finally, let's talk about the factors that impact vendor costs. Various elements can influence the pricing structure, including the vendor pool's availability, competitiveness within the market, travel requirements, the number of events being hosted, hours of service, size of the wedding party, multiple locations on the same day, the vendor's experience level, years of expertise, and the equipment and technology used.
Understanding these considerations gives you insight into the vendor's pricing structure and aids in creating a more informed negotiation strategy. By acknowledging the intricacies of their offerings, you can better navigate discussions and achieve outcomes that align with both parties' expectations.
In conclusion, negotiating with wedding vendors isn't just about asking for discounts; it's a thoughtful exchange aimed at obtaining value, building relationships, and ensuring a memorable wedding experience. By understanding the cultural context, the perspectives of different stakeholders, and the factors influencing vendor costs, you can approach negotiations with a balance of etiquette and expectation, resulting in a wedding that's both unforgettable and aligned with your vision.