It is common to walk into a sea of round tables when entering a wedding reception venue, however it does not have to be that way. It's important that you know there are other options for planning out your Indian wedding reception layout.
The Framework for a Functional Wedding Reception layout
If selecting your venue is the foundation of good design, then the room layout is the framework! When thinking about how you want your wedding reception layout to look like, the key thing to consider is whether or not there is enough space to comfortably accommodate tables in alternative sizes or shapes.
While dining tables will likely take up the most space, they are not the only pieces of furniture to consider. Anticipating what you will be doing in the space is helpful in determining your needs when designing your Indian wedding reception layout. Consider these questions:
Do you need a large dance floor because all your college friends are going to perform that evening?
Do you want to have a stage? If so, how large?
Where will the cake be placed?
How much space and outlets does the DJ require?
Will there be tables for desserts, gifts or other displays?
Do you plan on having a slideshow? If so, screens and projectors take up a good amount of space.
How many bars will you have in the main wedding reception space?
Will there be a head table for your wedding party? What about a sweetheart table for you?
Will you need a defined aisle for grand entrances?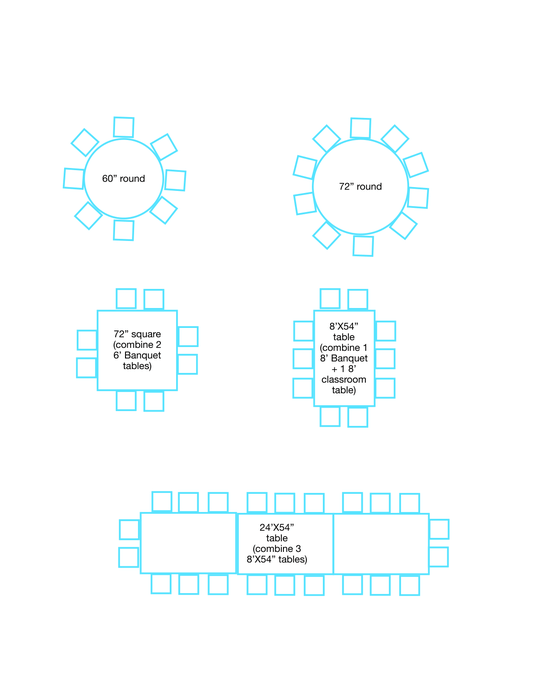 The above elements are considered "anchors" in a room. Once you've determined what those will be, and where you want to place them, it becomes easier to decide how and where to position the dining tables. You may find, however, that not all those elements will fit once the dining tables are placed to accommodate your estimated guest count.
No matter your venue, ask your contact for assistance as they are most familiar with the various layouts that work best within their space. Also, you'll want to ask what size and quantity of tables they have in inventory. Most venues carry standard round tables that come in 60" or 72" and standard rectangular tables that come in 6'X36" or 8'X36". If your venue does not have what you need, there are also rental companies in your area that offer alternative-sized tables as well as other options you can rent for your customized plans.
Get Creative with Your Room Layout
Different sized tables are always a nice touch when you are trying to accommodate large groups. A fun experience that we often create is to have a "cousins" or "extended family" table that can seat 22 guests. The great thing about this is that they don't have to be placed next the dance floor. In fact, placing this table in the 2nd row or anywhere else in the room is perfect because those guests will feel extra special because they were seating together!
Convenience for your guests is another important factor when thinking about table placement. You will want to make sure there is enough space to get in and out of their seats with plenty of elbow room to enjoy their dinner. Regardless of how you decide to layout the tables, a bit of advice from a logistics standpoint, be sure to maintain symmetry throughout the room so that the framework isn't lopsided 🙂
Finally, remember that this is your wedding and creating a fun and welcoming reception space is your ultimate goal. Have some fun, and don't be afraid to mix it up!