While we are a culture where it's customary to give a monetary gift for your wedding, come on let's face it, we have so many friends and co-workers, who will be invited to our events, that are NOT South Asian.  We also are aware that most of you live on your own, so you may not need a ton of things to set up your home together.
However, you may not be aware of how much the wedding registry has evolved. It is not filled with fancy china, stemware and coffee makers anymore. You can literally add anything from Amazon on your registry! Or, you can setup a honeymoon fund, travel experiences, and even setup donations for a charity in your honor. The options are unlimited.
Give them choices that you want
We suggest that you do have a registry with actual items on it – the old saying of "I can't carry all this back home with me" is of yesteryear. Today with the convenience of shipping directly to your home and the ease of communication so that everyone is aware of the notifications, it's a breeze for your guests. Please note that for your privacy, your address is not on display for your guests (or anyone for that matter) to see, so you can feel safe.
Think about it from your guests perspective for a second. IF you have multiple events that they will be invited to like your bridal shower/couples shower and the wedding, the likelihood is that they'll buy you a gift for one and give you money for the other.
Why not get gifts that you ACTUALLY want?
You have a specific color you want for your kitchen? You can pick kitchen towels that coordinate and put them on your registry.
You absolutely love your mom's blender and want one just like it? You can pick the exact make and model and put that on your registry.
Your fiancé has been wanting to get a cool bar set? Drop it on your registry and hopefully someone will get it for you guys.
Speaking of bars, this post covers the top Indian wedding bar do's and don'ts for your reception.
Registries even offer group gifts as an option, so your guests can contribute toward a larger gift.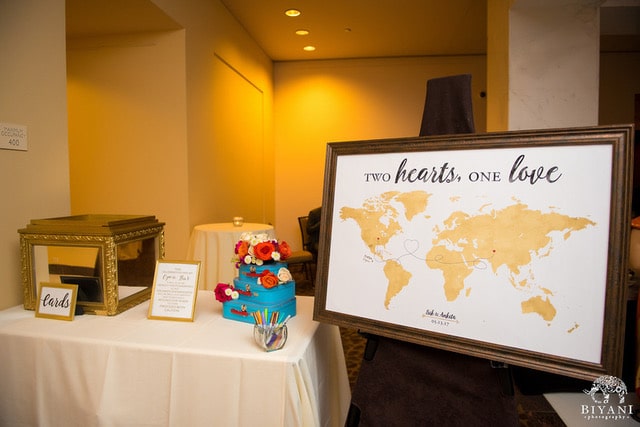 When thinking about what to put on your registry, it helps to think of your guests.
Here are some tips:
1. Varying price points. You want to have items with a variety of price points starting with $15-30 and go up from there. Unless you have friends or family that are going to drop some serious cash on gifts, you want to go no higher than $500-ish. But again, guests can contribute toward a larger purchase if that's an option.
2. Limit your list. You don't want to have too many things on your registry if your intention is to primarily get monetary gifts. We suggest taking your invitation count (the number of families/households you are inviting – typically that is how gifts are given) and then taking 20% of that number. That should be the number of gifts you have on your registry. For example, if your guest list has 500 guests, say 300 families/households, then your registry should have 60 gifts. A few more, a few less will not hurt – you just don't want it to be overwhelming!
3. Inform them. Add your registry links and details to your wedding website, it makes the process so much easier for your guests.
4. Give options. Pick no more than 3 registries. Think Amazon for the wide variety of household items and odd and ends. Think about William Sonoma or Macy's for more specifics and then something like Honeyfund to help offset some of your honeymoon expenses.  Visit our registry page to get you started.
5. Enjoy discounts. Remember that most registries offer you a discount on purchasing the items yourself after your wedding date (usually for 30-60 days after). Something to keep in mind if there were a few items you absolutely wanted, but didn't receive.