The place to start creating a
Desi wedding that's all your own.
(With a little help from a friend)
Here you'll find FREE downloadable templates designed with your South Asian wedding in mind. After 15+ years in the industry, we've figured out what works, what doesn't, and what WOW's. Soooo, to keep you from making the same repeatable mistakes, we've created a place for you to get advice, how-to's or voice concerns. Think of us as your "friend in the biz", who's keeping it real and keeping it honest.
Use these tools to help you plan, learn, teach, or feel like you are not alone. Whether you're planning it yourselves or working with a wedding planner, we've got you my friend.
The Basic Budget Template, helps start your wedding planning process in a smart way. Think of it as your syllabus for the next 9-12 months. It also makes that dreaded "budget" conversation easier to sit through (of course a little cocktail might help too!)
The Basic Budget Template includes a listing of all the possible services you may need to plan your South Asian wedding, in addition to "Comfortable Budget" and "Over the Top Budget" columns to use during the budget discussion with your parents and significant other.
Having trouble knowing how much to budget? Use our Budget Calculator to determine a fair and reasonable number you can work with.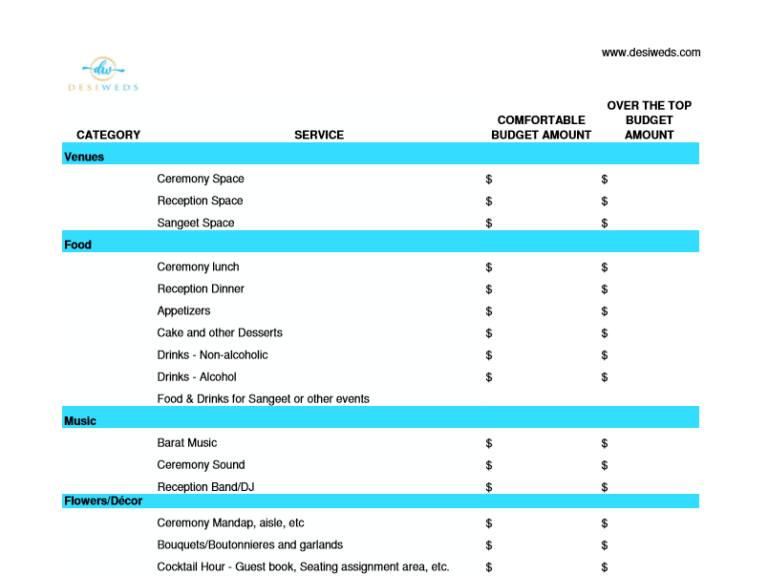 This link will take you to the Free Starter Guest List sheet that you can copy and save in your Google drive. The template is meant to be used as a foundation during the beginning stages of your wedding planning process. 
Trust us, you'll want to avoid headaches in the future when you begin mailing, tracking and creating seating assignments for your guests. It may look simple, but organizing your list in this specific format will save you time and frustration.

With multiple events to get ready for, we suggest packing for each event separately and labeling each bag. To help you, we've created a downloadable .pdf of our wedding packing list for the groom and for the bride planning a South Asian wedding. 
Be sure to download it and save it to your phones.  Save yourself from forgetting that extremely important item you will absolutely need come wedding day!