6 genius ways to hire the best Indian wedding decorator that fits your style
Finding a Wedding Decorator to Fit your Style and Budget
Finding the best wedding decorator for your style, personality and budget is not simple, but if you follow these six steps you will find the décor team you can trust to execute your wedding vision to perfection.  
Determine your Indian wedding décor cost
Ask yourself, what is my wedding style? (Take our Style Quiz below to find out)
Know the different types of wedding décor companies
Decide which décor elements are important to you
Determine if the wedding decorator understands your style and culture
Listen to your heart
Your time is typically spent between work, family, and hanging out with friends. But now you're in wedding planning mode, which is demanding even more of your time….a lot more.
If that's not enough, your online research has you sifting through directory after directory of Indian wedding decorators, only to run across the same list of vendors and not gain any more insight to confidently decide on who to hire.
During the décor phase of the wedding planning process, the goal is to find the best wedding décor team that can accomplish 3 things:
Execute your vision

Is conscientious with your budget

Can help design a dream wedding beyond what you could have imagined (or

Pinned

together) yourself!
So, how do you find and hire this unicorn wedding decorator extraordinaire? 
It all starts with you. 
There are a few key things you need to define about yourselves before your true vision can be translated into a physical reality of hanging crystals, floral arrangements, linens and colorful lighting.
1. Determine your Indian wedding décor cost
Hiring the best wedding decorator team starts with knowing your budget and being realistic about how much these services actually cost.
In the United States, Indian wedding décor takes up about 20% of your entire wedding budget. For a 300-400 person Indian wedding, the average wedding budget ranges between $150,000-$300,000 in major metropolitan cities in the U.S.  
If your wedding décor is 20% of your budget, you are looking at spending between $30,000 to $60,000 on rentals, ceremony and reception flowers, mandap, uplighting, and any other miscellaneous décor items.
With that figure in mind, you can feel confident knowing you are not going to be taken advantage of when it comes time to interview wedding decorators.
It's one thing to fall in love with the images on Instagram and Pinterest, but when it comes to associating dollars to those images it can be quite a shocker to recognize how much Indian wedding décor actually costs.
Educating yourself upfront about how much Indian wedding decorators can cost will definitely put you in a better position to take charge when making decisions. 
Some not-so-hidden-fees that many couples are surprised by in terms of wedding décor costs include travel fees that many wedding decorators charge above their rental fees. These fees will vary depending on the distance of your venue to their warehouse.
Other wedding decorators will also tack on additional labor fees depending on how elaborate the décor, the amount of hours they are restricted to at the venue, or if they have to break down that same evening.
Aside from the required service costs, having a budget figure in mind and knowing which décor elements you truly need, will help you make the right decision.
In addition, taking time at the onset to ask the right questions will help you realize when you are being "sold" unnecessary add-ons or "standard" pieces. These extras are typically seen at every wedding because "that's what we are told we need."
2. Ask yourself, what is my wedding style?
There are multiple wedding styles that have stood the test of time. These four styles encompass the most popular for Indian wedding décor in the U.S.
Eclectic is personal, unique and interesting. It's a collection of things you love. 
Glam is a refined, elegant look. It brings together an upscale feel with luxurious fabrics, sparkly accessories and metals. 
Modern is most commonly associated with clean dramatic lines and geometric shapes. 
Romantic is most thought of as feminine with pastels and lace giving a very traditional and regal feeling.
Before you go any further. Stop and figure out your unique wedding style.  Spoiler alert, neither of you will make the exact same style choices. 
Having different styles is ok. You are not meant to agree on everything in life, much less every wedding decision. That's what you love about each other, right?
However, knowing your wedding style will allow you to have concise and deliberate conversations with your Indian wedding decorators.
So, how do you determine your wedding style? Luckily, there are a number of wedding style quizzes you can take online to find out! 
Why not try several to see if you recognize a pattern? Start here with our Wedding Style Quiz and nail the right look for your wedding. 
With your wedding style determined, you can create a mood board that truly expresses what you envision!  With that vision in mind, there are three basic decisions you can make prior to meeting with potential wedding decorators: 
Select your colors

: start by picking the color of your dress, then build on that with up to 3 colors in total.

Choose color scheme:

come up with

one

color that you want to use for each event, then incorporate colors throughout that work well with that initial choice.

Add style:

once your color palette is chosen, begin to incorporate design elements that match your wedding style quiz results.
3. Know the two types of Indian wedding décor companies
Now that you've figured out your wedding budget and décor style, you are ready to interview wedding decorators for your South Asian wedding.
Like finding the perfect heels or tie to go with an outfit, you must consider a few criteria to determine the best fit before you hire a wedding decorator.
Understand what a wedding decorator does

Consider your budget and time constraints
What does a wedding decorator do?
Let's define what services a Wedding Decorator actually provides and what they do as one of the major players on your vendor team.
It is important to first make the distinction that there are Wedding Decorators and there are Wedding Designers.
A Wedding Decorator is someone that relies on an inventory of items that can be used to design and create a beautiful space.  A Wedding Decorator will typically set up the items you have rented from them for your wedding and reception such as; linens, backdrops, centerpieces, flowers, and ceremony pieces.
A Wedding Designer is someone who considers the big picture of your entire event.  They focus on the aesthetics of the entire space and flow of events. They incorporate your wedding style and desires to create a beautiful environment combining a number of décor elements that speak to your personality.  
Some Wedding Designers can provide all the wedding décor elements you need, whether it's from their own inventory or by working with a wedding décor rental company.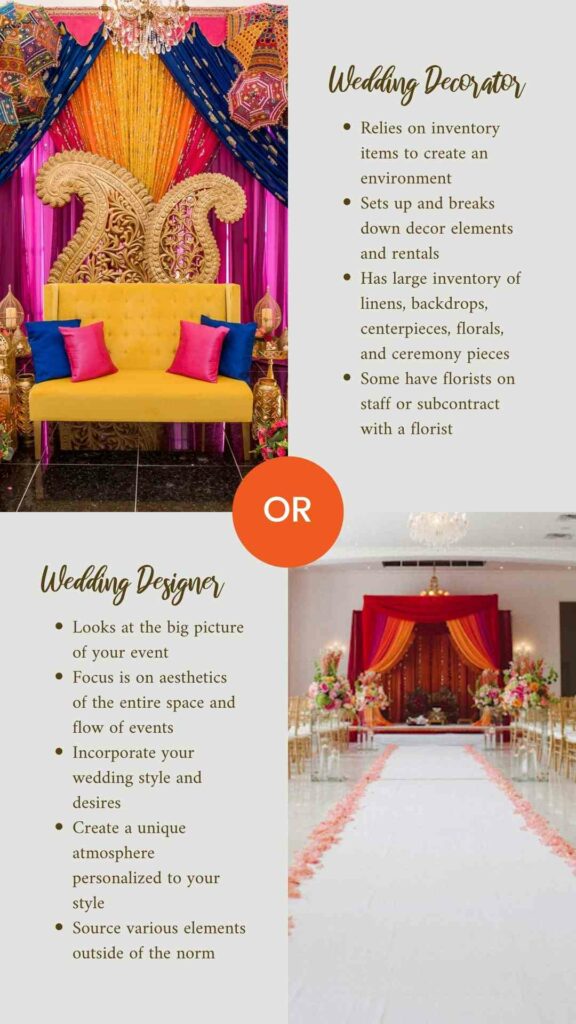 Now that you know the difference between the two services, you have more insight as to which type of wedding décor company is the best fit for you.  
If for example, you understand the basics of design style and function plus have the time to design the space yourself, then working with a Wedding Decorator might make sense.  
If however, you are looking for someone to bring your vision to life or help you narrow down all your fabulous ideas, a Wedding Designer will be your best friend.  
How much money and time do you have to spend on décor services?
Before you can know which wedding decorator or designer is the best fit for you, seriously consider the wedding budget you have to work with and the amount of time you have left between now and the wedding day.
Wedding Designers tend to be a little more expensive for a few reasons: 
They dedicate exclusive time to understanding your needs and developing a concept that fits the vision you want to portray; 

They implement their creative talent and years of design experience to develop a unique atmosphere for your event; 

Their goal is to provide a cohesive style and transform a space to reflect your personality throughout.  
Working with a wedding designer also requires a bit of planning ahead. The design process is more involved therefore needs a lead time of about 6-8 months prior to the wedding date.
A wedding decorator on the other hand, is only restricted by the inventory they have available for your wedding date. The elements you choose will determine the cost. 
If you want large centerpieces with huge floral arrangements, that will be more pricey than say smaller centerpieces with only candles.  If you have a set budget you can ask the wedding decorator to offer up ideas of which inventory items fit within that budget.
With regard to timing, the earlier you are able to reserve your décor the better. However, it doesn't require a lot of upfront planning to decide which items you want to reserve for your event. 
Once you see the inventory and decide which items come closest to your vision, you can reserve them and move on to the next phase of the planning process.
4. Decide which elements are most important to you
Whether you want to see the room filled with fragrant flowers or with pinpoint lights bouncing off shimmering crystals, it's imperative that you know this before meeting with a wedding decorator.
Knowing which elements are most important to you will guide the conversation with the wedding decorator.  Otherwise, they will show you everything in their warehouse and confuse you even more. Or worse, they may sway you toward a look they feel comfortable achieving but is not necessarily what you truly pictured for your wedding day.
A note of caution…stay true to your vision. Don't let anyone dissuade you from creating the atmosphere that makes your heart sing. If you are interested in fresh floral, ask if they can do the floral arrangements in-house.  If they say yes, then move forward and have them show you samples of their work.  
If the answer is no, it is totally fine to move on to another decorator experienced in florals. It's also perfectly fine to team them up.
If a wedding decorator is not experienced with flowers, you can hire them for those specific items you love, then bring in a florist to work alongside them to develop a look that is cohesive. 
5. Does the wedding decorator understand your style and culture?
It is one thing to understand design and even to have stunning décor pieces. It is a whole other thing to understand the nuances of your customs and not lump your wedding into a general bucket for how all Indian wedding celebrations should look and feel.
It is not necessary for your wedding decorator to be Desi, however it is important that they are willing to listen to and accommodate your requests.  
Although it is helpful when the decorator knows what you need without you having to spell it out, choosing a vendor based solely on that criteria is not always the best solution. Especially, if they are not flexible or cannot provide alternatives for a customized look for your events.
When you do finally choose your wedding decorator, there are a few staple items worth asking if they can provide. Most do provide these, however it is good practice to include them in the contract so they are not overlooked.
For Gujarati weddings
Bajot for the groom to stand on for aarti before the ceremony

A garland for the Ganesh murti or a pretty antarpat

A kalgi and garland for the groom to wear before the baraat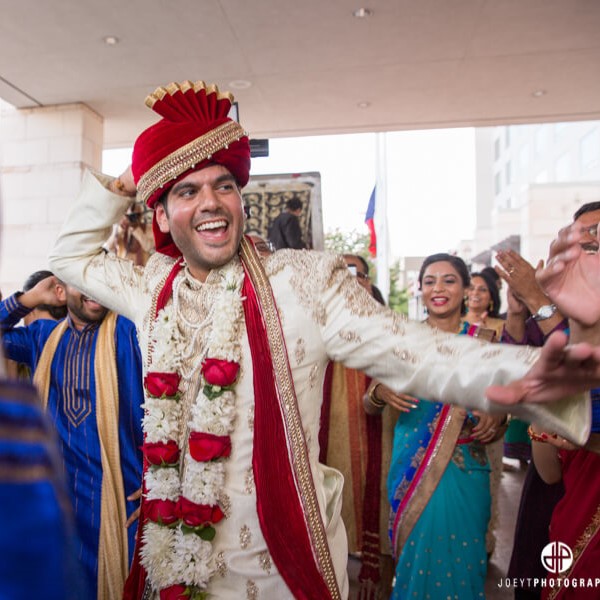 For Malayalee wedding
Wedding garlands and family boutonnieres

Unity candle stand or sand ceremony vases

If Catholic, flowers for the Virgin Mary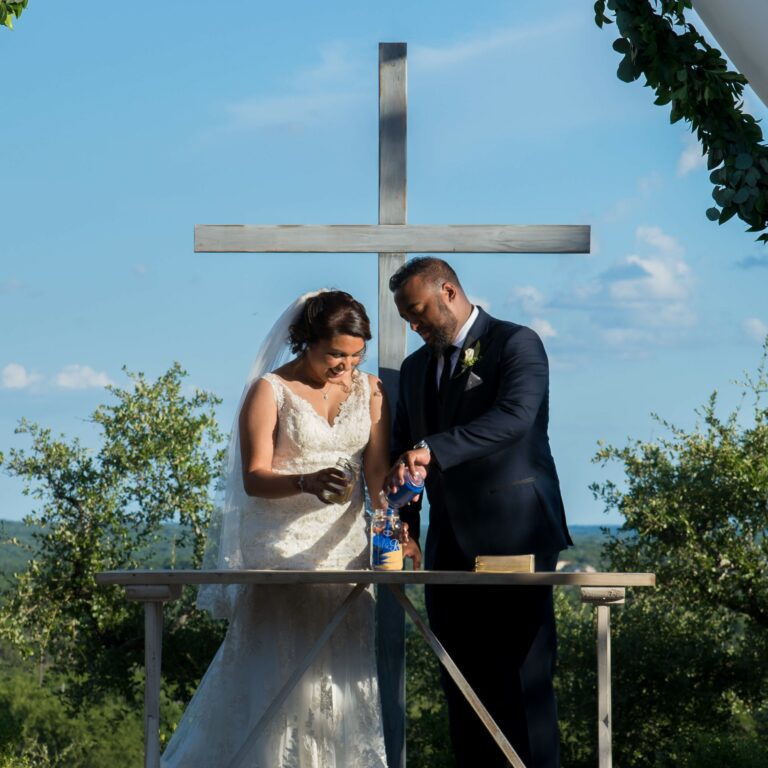 For Sikh wedding
Sehra for the groom 

Garlands for the milni

Tray with rice for the doli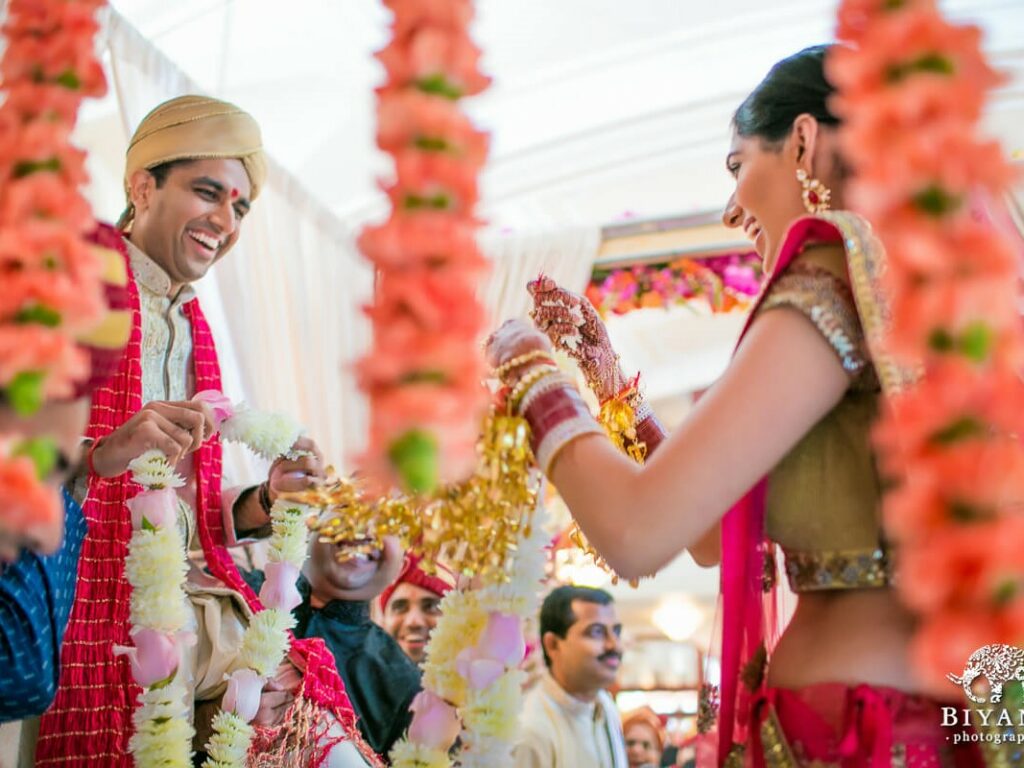 For Muslim wedding
Decorative trays to use during the mehndi

Floral accessories for the bride (bracelets, earrings, etc.)

A very decorative pen to use to sign the Nikahnama (marriage contract)

Extra seating on the stage available for picture time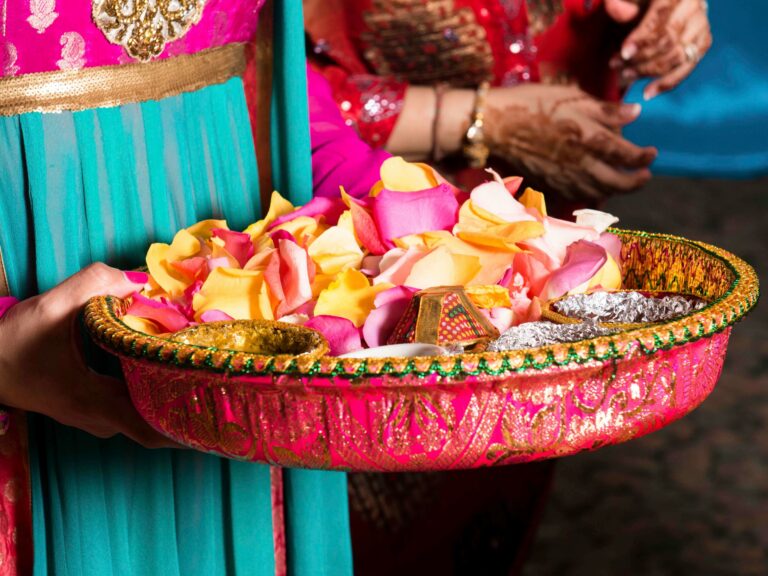 When all logic fails to the point that you cannot decide on who to hire, it's time to listen to your heart (or the little voice in your head that is guiding you).
Ultimately, the wedding décor team that you choose should be the one that actually heard you. The team that offered an inspired solution when you described your vision.  Bonus points for the one that got super excited and added on to your ideas beyond what you could've imagined!
Bottom line is that you both must be 100% comfortable with who you choose and actually love the design aesthetic they are presenting. If you are not in love with it, challenge them or move on to another wedding decorator.
Making the final decision
Pick the wedding décor company that can create the space you want, the one that you trust, and the one that gets you. You don't have to be besties, but they must hear and understand your vision.
A company that gets you is especially important if you don't have an eye for design. A well executed décor plan can make or break the lasting memory you leave your guests with in the end.  
If you need help or an unbiased opinion on choosing your wedding decorator, schedule a free 30-minute Concierge Call with us, and no one will ever have to know you didn't design your wedding all by yourself!