Top 6 U.S. Wedding Trends and Colors for Indian Weddings in 2022
What are the top 6 U.S. wedding trends to keep in mind as you plan your Indian wedding bash in 2022?
Destination weddings
Increased guest engagement
Lots of personalization
Decreased guest count; i.e. "smaller" weddings
Fewer performances gives way to more socializing
Back to basics with earthy tones
If you are planning a wedding in 2022, be prepared to bring it! After being cooped up for months, plus missing out on big celebrations with family and friends, guests are seeking a heightened experience.
As their hosts, it is your responsibility to deliver.
This one should not come as a surprise, primarily because we are ALL grateful that the borders are beginning to open up globally.
People are feeling more and more comfortable with getting back to traveling. Having been restricted to our homes for all of 2020 and given limited options for 2021, it only seems fitting that many couples are choosing to host their wedding in a trendy vacation spot! It not only checks your worldly travels box, but guests are open and excited to make that trip.
When it comes to destination weddings, guests will celebrate you, but be mindful that they may not want to spend every waking moment with other wedding guests or attend wedding-only events. Be sure to build in some free time for them to explore and get out and about so that it also feels like a mini-vacation.
2. Increased guest engagement.
It's only natural that after navigating the fears associated with the pandemic that people are definitely ready to start celebrating again, in a big way. Guests are ready to party like never before.
As entertainment will continue to play a pivotal role for desi weddings in 2022, here are a few ideas on how to keep guests engaged.
First and foremost, sourcing the ideal DJ or band will continue to be one of the top priorities for couples planning an Indian wedding in the U.S.
Second, incorporating other elements like choreographed performances with immediate family or the couple, will also continue to keep guests engaged. However, limit the amount of performances.  Your wedding should not feel like an evening of Dancing with the Stars.
Other ideas to help your guests truly feel like they are a part of your celebration include; inviting them to join your first dance or asking family members to join your entourage for your grand entrance.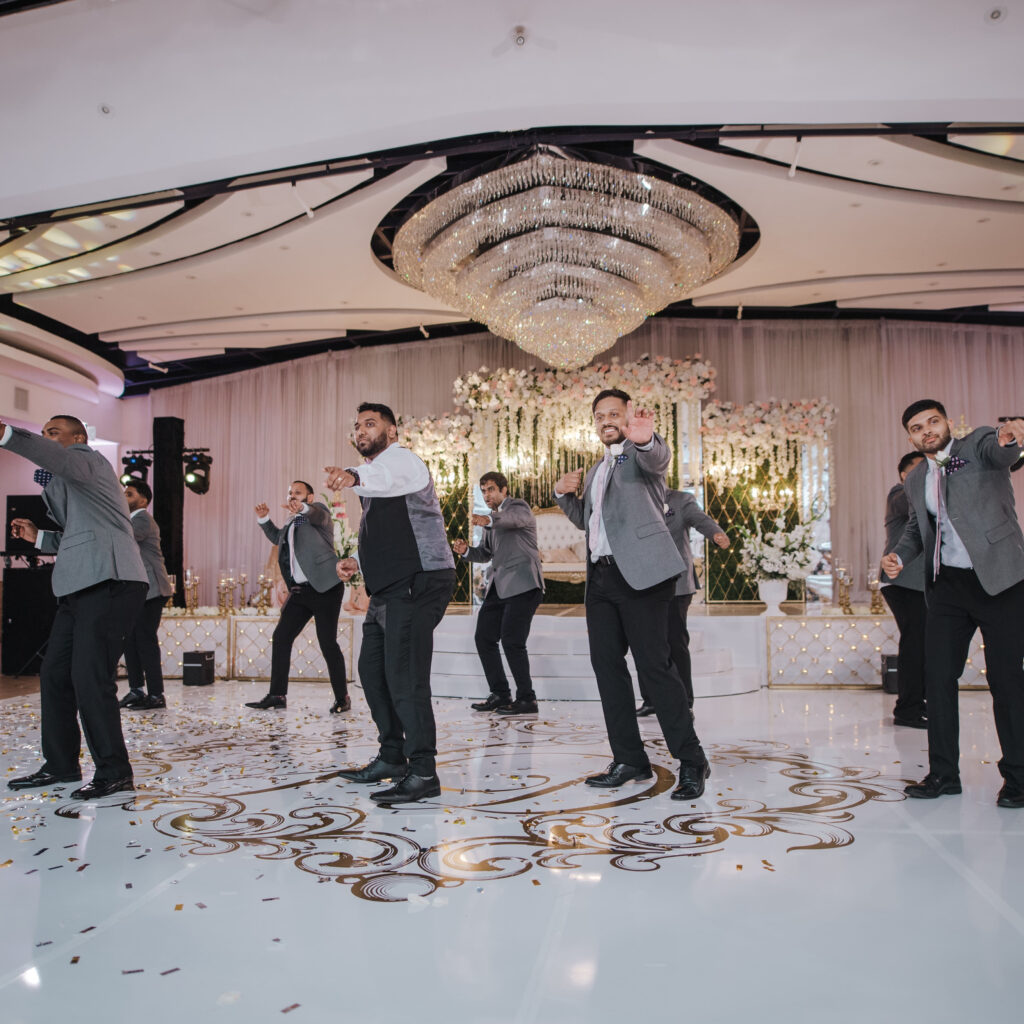 Anniversary Dance: Toward the end of your first dance, have your DJ or MC ask all married couples to join you for an anniversary dance. After about a minute, anyone who has been married less than 1 year steps off. Of course, that would be you and your new spouse. After another minute, those married less than 5 years step off then the MC keeps increasing in increments of 5 or 10 years based on the number of couples on the dance floor. Finally, the couple that has been married the longest is the last couple left on the dance floor.
Typically, they will share a few words of wisdom with the newlyweds. To make them feel extra special, take a cute photo with them and send them a copy of that picture with their thank you card. They will share that story for months and years to come.
Grand Entrance: Your grand entrance traditionally includes your wedding party and parents, but why not get the guests involved? Recently, a wedding planned by design weddings had a couple choose to ride in on a motorcycle. Their cousins led the entourage while handing out confetti cannons to the bridal party and all guests in preparation for the couple to enter the ballroom.
While the hotel was not particularly thrilled with how much confetti was in the ballroom, everyone was in on the action which elevated the feel of the wedding.
Personalization is a wedding trend that seems to be making a comeback. The pandemic has taught us that life is much more than what is seen on the surface. Long gone are the days where guests attend another pretty event.  Even more so, people have gained a greater appreciation for togetherness and simple pleasures.
Couples are trending more towards adding personal touches to their wedding celebration, while guests really want to celebrate your likes, tastes, and personalities.
Some ideas on how to personalize your wedding include:
Incorporating your favorite vegetables or protein in a new dish your caterer designed just for your event
Working with the venue to create signature cocktails with your favorite liquors
Adding photos of your favorite travel spots or special moments together as part of the tablescape
More and more couples are making their voices heard with their parents about having a smaller guest count. Culturally, we have been accustomed to inviting the entire community to our weddings, but come on now parents, can we get to less than <350?
The trend is moving toward smaller weddings, however. Of course, in the Desi community that means going from 500 guests to a manageable 300-350 guest list. Aside from the short-lived wave of 15-20 guest backyard weddings that happened in 2020, the trend is heading back to larger, yet not-that-large celebrations.
Here are a few other shifts that have emerged:
Not sure how you feel about this, but in 2021, along with the increase in vaccinations, there has been an increase in guests forgoing masks and hand sanitizing stations when attending an Indian wedding in the U.S. To some degree, it seems like we are going back to pre-covid ways.
It has definitely become more common to attend an Indian wedding where the only people wearing masks are the wedding professionals.
Guests (and couples) are eager for "wedding season" to revert back to the way things were. Most people seem to be ready to get all dolled up and have a good time with family and friends.
5. Fewer performances and more socializing.
Pre-Covid more couples hosted Garba and Sangeet as a Welcome Dinner. The latest wedding trend has been moving away from hosting a traditional show put on by the family. Instead, more recently and going into 2022, we have seen about 30% of couples are doing away with the Garba and Sangeet and opting for something more social.
Guests no longer come in, scarf down some food and sit for two hours to watch the family put on a show. Couples will be hosting events where guests have the opportunity to have conversations and get to know each other.
If you are planning to host a Welcome Dinner, think of things that your guests would enjoy and incorporate them into the night.
Give guests the opportunity to experience things like a Mehndi station, which is always a fun addition to any Indian event.
Live music, especially if the band will interact with the guests to make it more fun for everyone.

For example, there is a band in Houston where the main singer comes off stage, walks the crowd, and talks to guests. If the song is especially popular he will pass the microphone off to guests for a little sing-a-long. It gets people out of their comfort zone and opens up doors for fun conversations!

Include more time for guests to interact with one another instead of sitting in one spot watching performances.
6. Getting back to basics With Earthy Tones.
Aside from the aforementioned wedding trends, couples are generally going back to the basics. Traditions are being observed with some flexibility and an emphasis is placed on those priority elements that truly speak to them.
It is especially true with their wedding color choices for 2022. Couples are leaning more toward a wedding that trends on earthy tones, natural elements, and more organic elements over structured centerpieces.
Examples of the wedding color trends for 2022 are:
Earthy tones – going earthy doesn't necessarily mean you can't be elegant. Think terracotta, olive, and wood mixed with satin, pampas and rich textures
Natural elements – in 2022 you'll see wedding décor that uses more mixed metals and less all-glass or crystal in a ballroom.
Neutrals – definitely the "in" color for reception outfits! Brides will swing more towards single colored reception outfits, doing away with the multi-colored dresses of years past.