The 5 wedding couple personalities:

You are all about the warm and fuzzies. Together you take Your time to talk things out and you enjoy getting others involved in the planning process. Advice from parents, siblings and friends are welcomed and encouraged.

Combined you have multiple things happening in life, be it work, school, traveling, or a very busy social calendar. You also don't hold back and you appreciate those who "shoot it to you straight". You know what you want and you're ready to make smart, yet quick decisions.

You are both fairly neutral on things and greatly appreciate the transparency when it comes time to make important decisions. You ultimately want your wedding to reflect your personality and are willing to compromise where needed to get things done.

Like a fine wine, you have both been mulling over ideas for some time, you prefer to let ideas swirl around while you think things through before coming to a decision. You are a true connoisseur and once you have a taste for what you want you are ready to move forward with confidence.

You both love to celebrate and agree that the finer things in life are meant to be shared. Therefore, you trust your partner's decisions and choose to divide and conquer. You each have certain aspects of the party that you are passionate about and allow each other to run with those ideas and choices.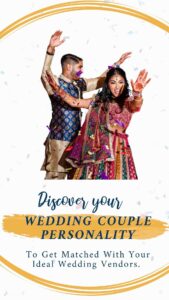 What does your couple personality say about which wedding vendors to hire?
Take our Wedding Couple's Personality quiz to find out which wedding vendors are best fit style, budget and personality.
Why take the wedding couple personality quiz?
Get clear on your expectations and make wedding planning decisions with confidence.
Knowing your Wedding Couple Personality helps you:
What happens after you take the wedding couple personality quiz?
You can sign up free below and we will match you with vendors for up to three wedding services!