Interview Questions to Ask A Caterer
Food is likely to be THE only thing your parents will care that is perfect at your wedding – and who can blame them? They know that if the food isn't good, that will be the talk of the news cycle with all their friends who showed up to the wedding!
While I don't subscribe to the thought that food is the most important element of your wedding, I do believe that it must be good!  There are so many things to consider when selecting a caterer, so we are going to make some assumptions prior to sharing our advice:
A. The caterers that you are interviewing have experience with Indian weddings.
B. You have tried their food, whether at their restaurant or a previous event, and you like the quality of the food.
C. You have talked to your venue to ensure that this caterer is allowed on property. Talking to your venue contact and asking for recommendations is a great option if you are looking for some help.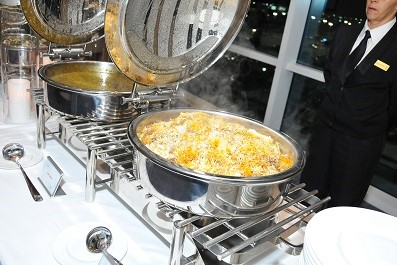 Now that the assumptions are out of the way, here are some questions you will want to ask the caterer as it pertains to your wedding.
Are you available for my wedding weekend? How many weddings do you do in a typical weekend?
Most caterers can handle multiple events every weekend. What you want is to get a sense of if the manpower they have can support multiple events. Especially, if you are hiring them to serve your multiple events. 
How many people from your team should we expect on event day?
We suggest that you have atleast 1-2 people per buffet station and some help in the kitchen or prep area to prepare the trays to be taken out to the ballroom.  If you want fresh naan made onsite, this will all be additional staff. 
What are the specific services you provide? (Will they bring staff, chafing dishes, display items, signs for the food, etc)
If you are at a hotel, be sure you know what they will provide.  Most often, the hotel will not touch the caterer's food (for liability reasons) and so the caterer will have to bring staff for that.  (Answer in question above) As for anything else, it just needs to be coordinated with the venue and caterer so that you are covered.  Some caterers charge for the display items, while others don't – just be aware before you commit. 
What is your experience at our venue? Will they allow you to cook onsite? Are you allowed to use their equipment? (chafing dishes, hot boxes, refrigerators, etc)
You want to know if the caterer has been to your venue or not.  A seasoned professional will be able to work in new spaces so this shouldn't be a deal breaker.  It just helps to know their familiarity with the space and team at the venue you have selected.  If they haven't been in the property before, suggest that they meet your sales rep soon so that they can begin to build rapport which helps both of you in the planning process. 
If you are looking to have food served in a manner other than a buffet, please ask the caterer their experiences with that style of service. (Family style or plated or some mix of those services)
These styles of service are complicated and you do not want to be the guinea pig, TRUST me! Just do a buffet if that is the case 🙂 
Is your health permit current?
This maybe a no-brainer, but you'd be surprised how often this slips through.  Popular caterers tend to be consistently booked and sometimes they forget to handle their paperwork and logistics!!
IF WE HAVE GUESTS WITH DIETARY RESTRICTIONS, HOW WILL THE HANDLE THAT?​
Great question. With so many dietary options nowadays, you want to be sure your caterer can accommodate and can clearly identify specific restrictions.
what are some creative ways you have est up the food at weddings like ours?
This answer will vary from location to location.  You just want to be sure that the set up they have in mind matches what you are looking for your wedding events. 
what are your most popular choices for appetizers and main course at a wedding like ours?
This will vary, however, knowing the answer will help you in determining the caterer's creativity and abilities.  If you are hearing things like samosas and chicken tikka or saag paneer and daal – you might want to find a new caterer.  Those are staples but a bit boring if you ask me.  Ask what is popular but also new and unique!
What can we expect to be the process to select our menus?
This varies, however, my suggestion is that you are able to do tastings to determine a menu.  We suggest that you start with reception and work your way backwards through the events. The final selection of all menus should be done no later than 6 weeks before the wedding, preferably like 10-12 weeks before so that you have enough time to manage all the details.  
If you are considering multiple caterers: Ask, Are you willing to only do certain events?
There are several caterers that we know that do not like to only do one event and you just need to know that on the front end.  If you are wondering why don't they just want to take my money for what I need – the reason is that they can only handle so many events and it is much easier to plan for all the events of one family rather than doing one event for 10 families.  This varies by caterer, so if it's a deal breaker, just be honest with the caterer and make the best decision from there.
What can we expect at a tasting? What items should we consider on the menu? How would you make our guests dining experience unique?
We definitely recommend having a tasting for the food you'd like specifically served at your event. We suggest that you only taste the items for the reception on one day and have an alternate day to taste the food for the other events such as sangeet, etc. Our suggestion is to do the tasting before giving the deposit. Many catering companies that we have worked with do not have a contract and so it's important to have your tasting notes written down. This ensures you have clear expectations and can review it again the week of the wedding. 
These are the top questions to start with when interviewing caterers for your wedding.  For more advice, check out our blog posts below to read more.